So Easy Free From Gluten Cookbook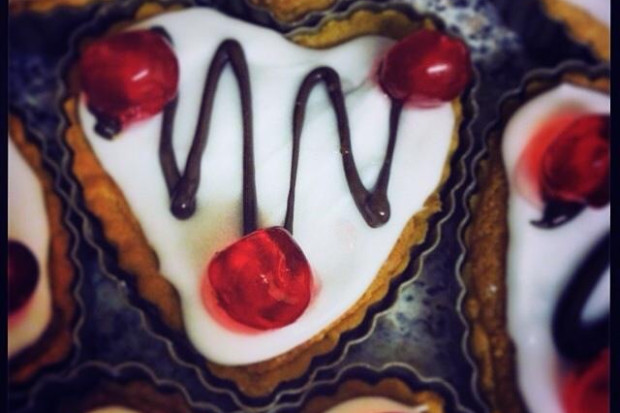 A Brief Introduction
My name is Sharon Loving and I work alongside my Daughter Aoife Loving in our little cafe in Lancashire,Uk. We specialise in gluten and wheatfree cakes which we bake daily in our kitchen.
I started making glutenfree products about 6 years ago as a challenge, mainly because most of the supermarket food out there was awful, bland, pale and overpriced. I'm not ceoliac myself but have a slight sensitivity to wheat based foods, so this has been a journey of passion more than necessity. 
I first starting selling my traybakes about 5 years ago at small craft fairs and quickly moved on to bigger regional markets. After 4 years of juggling a full time job and a small business I or we as a family, finally took that step to open our own cafe in our home town. It was a big risk both financially and emotionally but it was sort of a dream come true and something I didn't want to look back on in years to come and say 'wish we'd given it a try',
Making a Dream a Reality
I have been approached many times by customers and asked when will I start writing a cookbook? It made me think, maybe it is time to give it a go, I have always for years been happy to share my recipes and tips and regularly give food demonstrations where I encourage a question and answer style interaction. But these recipes have been hard work to perfect, my family have been scarred for life from being forcefed cake again and again in our quest to perfect every cake. 
My recipes are so easy, most are an all-in-one method with no whisking or binding, folding or kneading. Everything gets placed into the bowl at the same time, can be left in a mixer to do its thing, popped in the oven and it that simple.
We also have to offer, an endless range of savoury recipes from every continent. Each recipe can be altered to cover a wide range of other food allergens and dietary requirements.  
The Impact
Why does glutenfree baking have to be so complicated?
It doesn't! Time wise, these recipes are fast and simple. There are no complicated flour blends or mixes. You don't have to be coeliac to eat or appreciate them as they don't taste any different to any other mainstream cake and taste 1000 times better than factory made counterparts. 
I suffer from a little problem of bloating as most of us do, it helps me to cut down on wheat but why then eat something second rate when you can treat yourself to something that tastes amazing, fresh homemade and you know exactly what you're feeding to your family.
Risks & Challenges
I'm not looking to publish a cookbook that will not sit on shelves gathering dust, I have the opportunity to travel and promote at every venue, event, shop that will allow me to bribe them with cake. I've never been afraid of hard work and selling this book is my next big challenge. The emphasis is to make everything simple, from the recipes to people's ability to receive a copy of our fantastic book. 
Other Ways You Can Help
I completely understand that there will be people who cannot contribute but there are many other ways you can help us to achieve our goal, Shout about it!! Social media, groups, meeting even in the office.
Pop in for a coffee if your passing and I'll treat you to a sample of one of our amazing cakes. 
Summary:
I have been approached many times by customers and asked when will I start writing a cookbook? It made me think, maybe it is time to give it a go, I have always for years been happy to share my recipes and tips and regularly give food demonstrations where I encourage a question and answer style interaction
See Campaign:
https://www.indiegogo.com/projects/so-easy-free-from-gluten-cookbook#/
Contact Information:
sharon loving
Tags:
Indiegogo, Reward, United Kingdom, English, Books & Publishing, Food, Food and Beverage, Media & Entertainment, Industry verticals, Regions, Types of Crowdfunding deal, Language
Source: ICNW